Penerangan Produk
Berkualiti tinggi Disesuaikan keluli silo roll membentuk mesin Semasa proses membongkok sejuk, logam lembaran secara beransur-ansur membentuk bentuk terakhir, dan apabila bahan melepasi kilang, Mesin pembentuk dinding silo keluli dibentuk oleh roller berputar. Objektif reka bentuk roll adalah untuk membentuk produk yang diingini dalam toleransi yang diberikan dengan jumlah langkah pembentukan minimum, jumlah minimum pas. Kelebihan Silos sidewall membuat mesin adalah: ia boleh menghasilkan pelbagai ultra-nipis, ultra-lebar dan kompleks profil yang tidak boleh dihasilkan oleh rolling; Mesin lembaran dinding silo dapat menjimatkan bahan logam dan mempunyai sifat mekanik yang baik. Kaedah pemprosesan yang biasa digunakan ialah roll lentur, lenturan, lenturan dan lenturan.
Produk utama kami termasuk mesin purlin C, mesin purlin Z, mesin purlin CZ, Mesin Rak Penyimpanan Rak, Rak Penyimpanan Rak Roll Forming Machine , Mesin Pembuat Rak Bergerak , Mesin Baki Roll Rolling Machine , Mesin Membentuk Roll Purlin , Mesin Membuat Paip Dikimpal , Mesin Pembentukan Roll Guardrail Lebuhraya , Metal Production Mesh Expanded Mesh, C / z Purlin Machine, Machine Board Walking Scaffolding dan sebagainya, kita boleh menyesuaikan mesin mengikut keperluan pelanggan, saya fikir anda mempunyai pertanyaan lanjut tentang Roll Forming Machine kami , jangan ragu untuk menolong saya.
1. Carta aliran Proses

Manual de-coiler --- Roll Forming Machine ---- Computer Control Cabinet --- Mekanisme pemotongan automatik --- Run-out Tables
2. Spesifikasi dan butiran teknikal
Description

Product Name

Galvanized Steel Silo Building Machine

Machine Size

8000mm*2000mm*1800mm

Machine Weight

About 20 T

Frame Materials

450H steel

Forming Shaft

Diameter

80mm

Material

45# quenched and tempered material

Forming roller

45# Forging Hard Chrome Plating

Cutting System

Hydraulic Cutting

Main Engine power

22 KW with cycloidal reducer

Forming Speed

8-15m/min

Pressing Thickness

1.5-3 mm

Pump Station Motor

15 KW

Coder

Wuxi "rip" or "Xin Ya"

Switch

" CHINT "or" delixi"
Peralatan untuk Rujukan: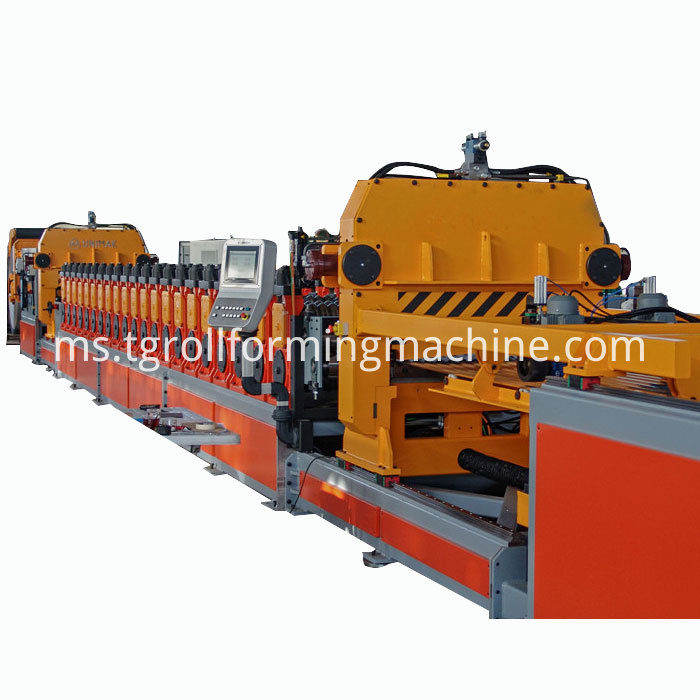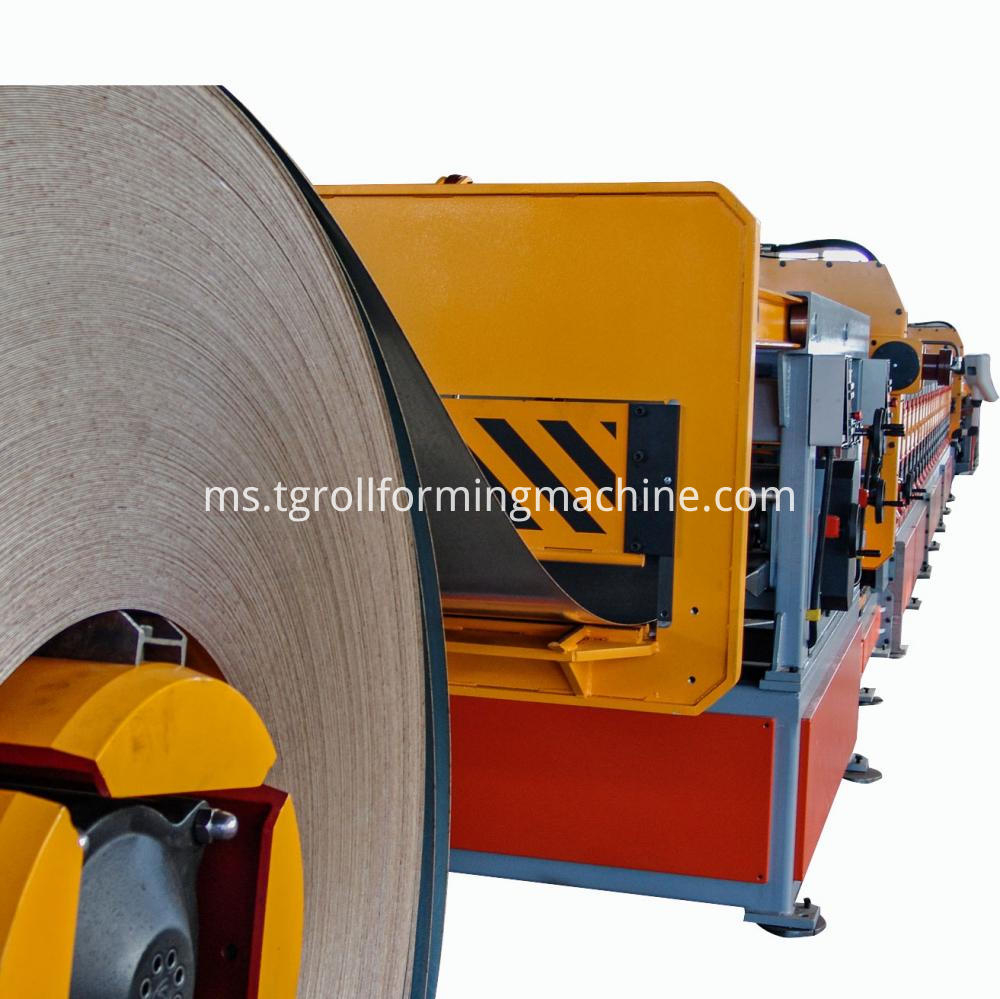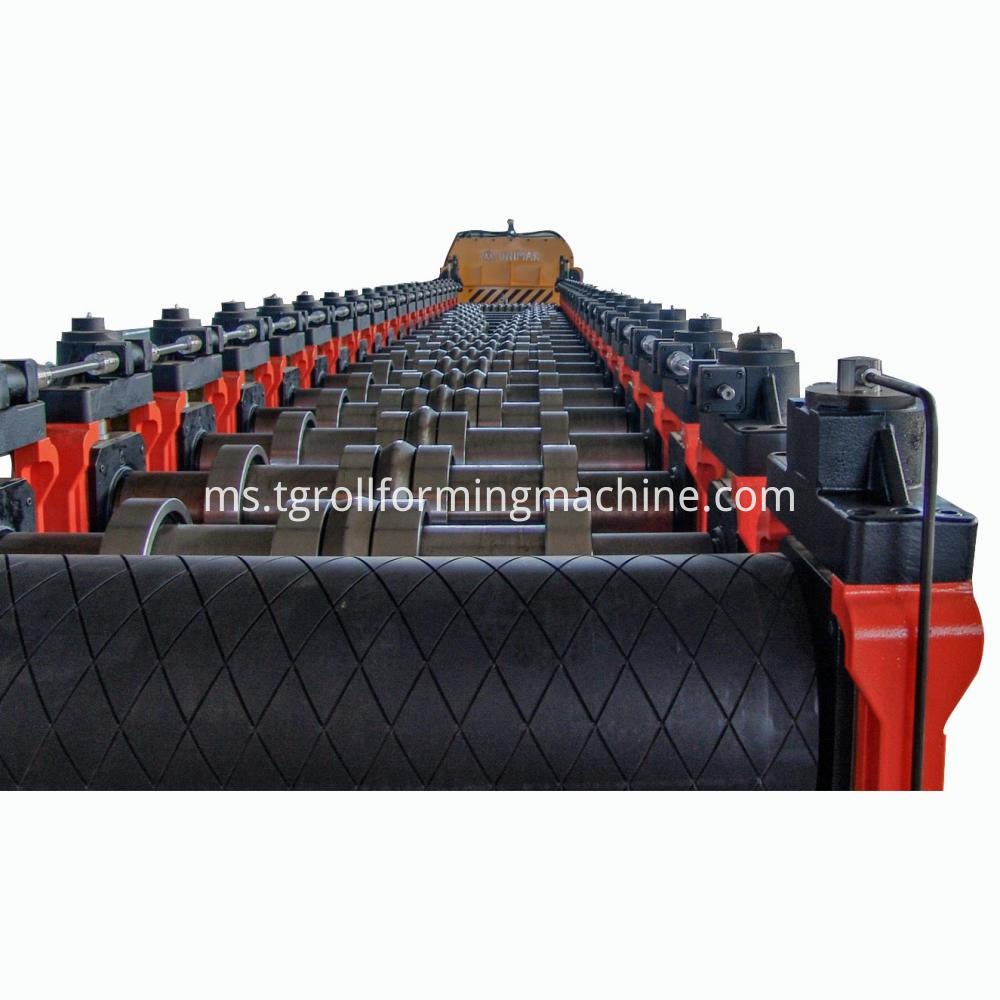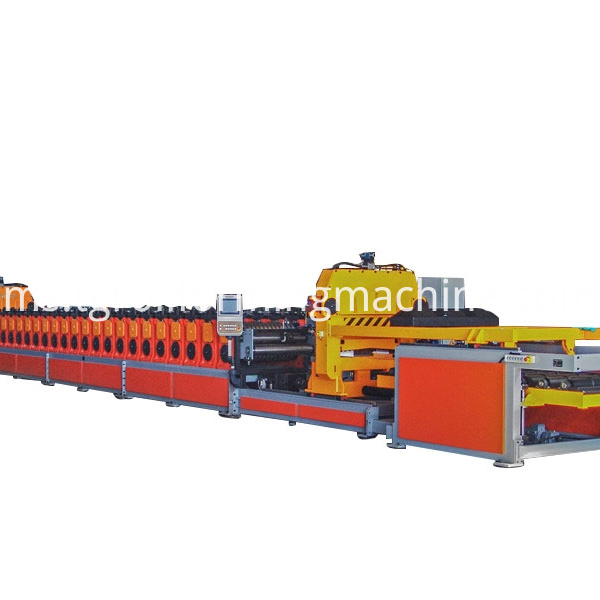 3. Syarat pembayaran dan perkhidmatan selepas jualan:
1) FOB Tianjin
2) Bayaran: 30% T / T deposit, dan bayar baki sebelum penghantaran.
3) Masa penghantaran: 60 hari bekerja.
4) Tempoh Jaminan: 12 bulan jaminan terhad bermula dari tarikh penghantaran. Kos penghantaran bagi bahagian yang akan diganti semasa tempoh jaminan perlu ditanggung oleh pelanggan.
5) Pemasangan dan latihan:
1. Jika pembeli melawat kilang kami dan periksa mesin, kami akan mengajar anda bagaimana untuk memasang dan kami mesin, dan juga melatih pekerja / juruteknik anda dari semasa ke semasa.
2. Tanpa melawat, kami akan menghantar manual pengguna atau vdeo kepada anda untuk memasang dan mengendalikan.
3. HARIAN PEMASANGAN :
Pembeli perlu membayar caj pemasangan (USD 80 seorang seorang sehari). Kepada penjual yang dilantik oleh T / T sebelum juruteknik penjual pergi ke kilang pembeli. Pembeli membayar juruteknik penjual kos perjalanan di luar China, termasuk yuran tiket penerbangan, penginapan dan makanan, menyediakan pengangkutan dari hotel yang tinggal ke tempat kerja, komunikasi yang diperlukan, dan insurans, dan sebagainya.
Saya f mempunyai pertanyaan lanjut tentang Peralatan kami , sila hubungi saya, terima kasih!
Kategori produk : Silo Roll Forming Machine > Mesin membentuk panel silo